Although there are few examples of crosswalk flag programs in Canada, there are many other crosswalk flag programs, particularly in the United States.
Nova Scotia
In 2011 the Village of Port Williams implemented a crosswalk flag program (photo in banner) that continues to this day
In August 2014 the Traffic Authority of Halifax took the decision to allow crosswalk flags in the city. Through the generosity of business, individuals, associations and a number of Councillors there are now 43 crosswalk flag programs installed in HRM. Please see the Locations tab for each location.
In July 2014 the Municipality of Chester approved and funded 50% of the installation of crosswalk flags along with crosswalk pedestrian signs (as below) at each of the crosswalks in Chester, Hubbards and New Ross.
The Town of Hantsport has implemented crosswalk flags at four locations, funded by the town.
The Town of Berwick has also now added crosswalk flags to help its crosswalk issues. See the coverage at http://www.kingscountynews.ca/News/Local/2014-10-01/article-3888700/Berwick-takes-steps-to-improve-pedestrian-safety/1
With the support of the Town of Windsor Traffic Authority Cocoa Pesto Catering funded two crosswalk flag installations in October 2015.
Also in October 2015 the Village of Aylesford installed crosswalk flags as a result of a citizen seeing the crosswalk flags in Port Williams. Coverage can be found here
http://www.kingscountynews.ca/News/Local/2015-10-05/article-4299312/Village-of-Aylesford-now-has-crosswalk-flags/1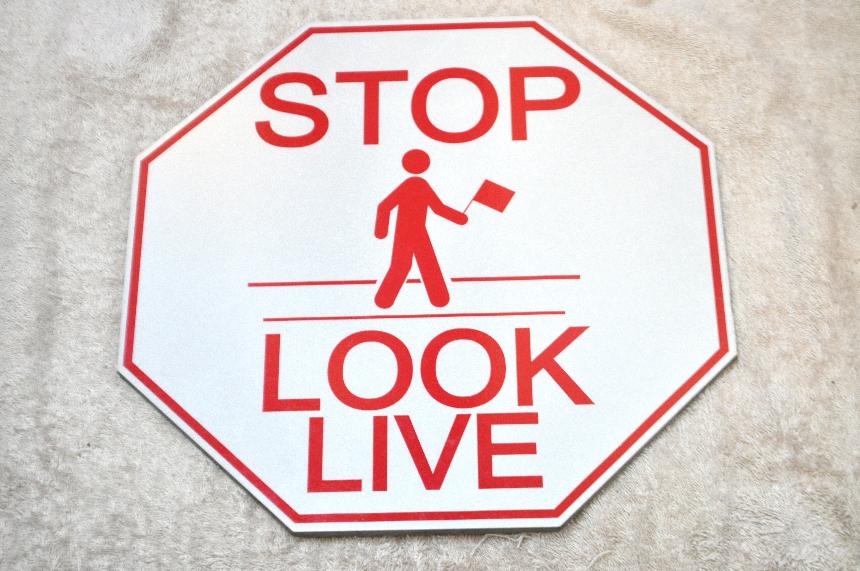 Manitoba
In October 2013 the town of Morden installed crosswalk flags at one particularly dangerous location.
British Columbia
In February 2016 the District of West Vancouver implemented a pilot crosswalk flag program.
Further details here www.westvancouver.ca/transportation-roads/roads-sidewalks/crosswalk
The City of Coquitlam has purchased three sets of crosswalk flags from our Society.
Prince Edward Island
In August 2017 the City of Charlottetown purchased six sets of crosswalk flags from our Society to begin a program around schools.

Having seen the crosswalk flags in Charlottetown in late 2018 the nearby Town of Stratford originally purchased three sets of crosswalk flags. Having been pleased with the success of the program the town has now purchased an additional five sets, bringing their total to eight.
Alberta
In October 2017 the Crescent Heights Community Association in Calgary purchased a set of crosswalk flags from our Society to improve pedestrian safety in their community.
And then in March 2019 the Town of Cochrane purchased four sets of crosswalk flags.
United States
There are a number of crosswalk flag programs throughout the United States, the most significant one being the now (April 2016) 229 locations in Salt Lake City, Utah.
Each of the following cities have had online mentions of crosswalk flag programs.
1. Salt Lake City, Utah
2. Charleston, South Carolina
3. Madison, Wisconsin
4. San Francisco Bay area, California
5. Windsor, Connecticut
6. Stoughton, Wisconsin
7. Seattle, Washington
8. Hailey & Ketchum, Idaho
9. Kirkland, Washington
10. Washington, DC
11. New Brunswick, New Jersey
12. Powell, Wyoming
13. Berkeley, California
14. Honolulu, Hawaii
15. Lynnwood, Washington
16. Glens Falls/Hudson Falls, NY
17. Ashland, Oregon
18. Elm Grove, Wisconsin
19. Idaho Falls, Idaho
20. Twin Falls, Idaho
21. Portland, Maine
22. St. Paul, Minnesota
23. Benecia, California
24. Chapel, North Carolina
25. Oxford, Mississippi
26. Provo, Utah
27. Belmont, California
28. Casselbury, Florida
29. Dane County, Wisconsin
30. LA County, California
31. Oakland, California
32. Minnetonka, Minnesota
33. Hudson, Wisconsin
34. Ponce Inlet, Florida
35. Gaithersburg, Maryland
36. St. Augustine Beach, Florida
37. Metuchen, New Jersey
38. Brainerd, Minnesota
39. Astoria, Oregon
40. Bristol, Rhode Island
41. Woodenville, Washington
42. Asheville and West Asheville, North Carolina
43. Waikoloa Village, Hawaii
44. Cottage Grove, Oregon
45. Corte Madera, California
46. Davidson, North Carolina
47. Arlington, Virginia
48. Covington, Washington
49. Lexington, Massachusetts
50. Port Angeles, Washington
51. Wallingford, Washington
52. Pearl City, Hawaii
53. Eugene, Oregon
54. South Kingston, Rhode Island
55. Warm Beach, Washington
56. Chicago Illinois
57. Sacramento, California
58. Mill Creek, Utah
59. Reddington Shores, Florida
60. St. Pete's Beach, Florida
61. New Oxford, Pennsylvania
62. Clearwater, Florida
63. Pinellas County, Florida
64. Wallowa County, Oregon
65. Sandpoint, Idaho
66. Richland, Washington
67. Corrales, New Mexico
68. Clearwater, Florida
69. Pittsford, New York
70. Memphis, Tennessee
71. McCall, Idaho
72. Ridgewood, New Jersey
73. Bridgeport, Connecticut
74. Athens, Georgia
75. Glendale, California
76. Electric City, Washington
77. Sitka, Alaska
78. Lewes, Delaware
79. Port Washington, Wisconsin
80. Fort Lauderdale, Florida
81. Bainbridge Island, Washington
82. Piscataway, New Jersey
83. Wakefield, Rhode Island
84. Waimea, Hawaii
85. Belmont, Massachusetts
86. Riverton, Wyoming
87. Farmingham, Utah
88. Kainaliu, Hawaii
89. Shoreline, Washington
90. West Asheville, North Carolina
91. Bothell, Washington
92. Oswego, Illinois
93. Whittier Heights (Seattle), Washington
94. Leeward Coast (Farrington Highway), Oahu
95. Cincinnati, Ohio
96. Chatham, New Jersey
97. Cache Valley, Logan, Utah
98. Pagosa Springs, Colorado
99. Vaudreuil-Dorion, Quebec
100. Antigo, Wisconsin
101. Hastings, Minnesota
102. Rhinelander, Wisconsin
103. Sparks, Nevada
104. Cupertino, California
105. Chicopee, Massachusetts
106. Oradell, New Jersey
107. Park Ridge, Illinois
108. Ontario, Oregon
109. Augusta, Maine
110. Haddon Township, New Jersey
111. Los Gatos, California
112. San Jose, California
113. Port St. Lucie, Florida
114. York, Pennsylvania
115. New Ulm, Minnesota
116. SeaTac, Washington
117. Blackstone, Omaha, Nebraska
118. Woodinville, Washington
119. Kingston, New York
120. Atlanta, Georgia
121. Paris, Tennessee
122. Vancouver, British Columbia
123. Morgantown, West Virginia
124. Sonoma, California
125. Fremont, California
126. Falls Church, Virginia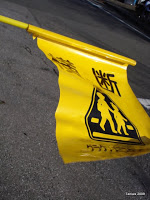 Japan
The idea of crosswalk flags apparently originated in Japan in the 1990s. It is reported a number of small cities in Japan use crosswalk flags. I am aware of at least Iida City, Nagano as one city that has crosswalk flags.